Jessica Steinrock
Intimacy and Violence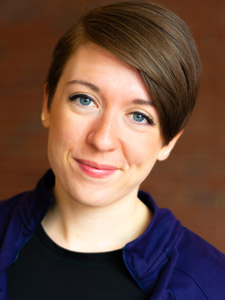 Jessica Steinrock (she/her/hers) is a certified Intimacy Director for Theatre, Intimacy Coordinator for TV and Film, and Lead Instructor with Intimacy Directors International (IDI).
Recent professional credits include ANIMAL KINGDOM (TNT), and CLAWS (TNT). She works professionally across the United States choreographing and teaching intimacy for stage and screen and is finishing her Ph.D. at the University of Illinois at Urbana-Champaign. Her research investigates consent and the role of the intimacy director/coordinator in contemporary performance.
She came to this work by way of improv comedy and has developed techniques and methods for promoting consent during non-scripted performances that focus on the specific needs of improv training centers. Her research has expanded to encompass film, opera, improv, devising, and a variety of scripted theatre.
She currently serves as the Managing Director of IDI and has been cited in the LA Times, Backstage Magazine, and American Theatre Magazine.
Contact Us with Any Questions!
6773 Hollywood Blvd., 2nd Fl.
Los Angeles, CA 90028
(323) 465-4446
(323) 469-6049 FAX
adler@stellaadler-la.com