Kennedy Brown
Movement, Acting Styles and the "Dark Fridays" Play Reading Series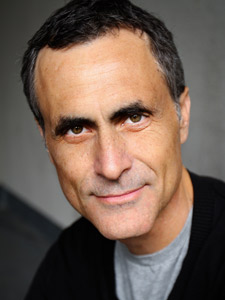 Kennedy Brown has been teaching for over twenty years in major acting programs in both New York and Los Angeles. In New York, he taught at the Stella Adler Studio, New York University, the American Academy of Dramatic Arts and Marymount Manhattan College. Kennedy's Movement teaching is informed by his long-time association with Fay Simpson, founder of the Lucid Body technique. Aside from having originally been her student and having assisted her classes and workshops over the years, he has also been a performer in her company, the Impact Theatre, performing in a duet with Ms. Simpson in the critically acclaimed 'Triptych'. Kennedy's teaching is also influenced by the Skinner Release Technique, the LeCoq Technique, the Michael Chekov Technique and Clown Work, as well as his extensive experience with Voice Techniques for Actors.
Kennedy has a background in Classical Acting, having been a core company member of the highly regarded Jean Cocteau Repertory Theatre in New York City, where he performed in the plays of Euripides, Shakespeare and Moliere as well as the plays of contemporary Masters such as Brecht and Beckett. More recently, he was a founding member of the movement theatre company, the Gravity Project. His most recent performance was titled Red Bush Blossoms, a solo piece based on the poem Transcription for Organ Music, by Alan Ginsberg. Besides teaching at Stella Adler-LA, Kennedy is a Lecturer in the Acting Department at California State University, Fullerton where he teaches Voice, Speech and Movement. His teaching training includes a certification as a Yoga Instructor, having received his certification from the Jivamukti Yoga Center and he is also a certified Associate of Fitzmaurice Voicework.
Contact Us with Any Questions!
6773 Hollywood Blvd., 2nd Fl.
Los Angeles, CA 90028
(323) 465-4446
(323) 469-6049 FAX
adler@stellaadler-la.com