Rachel Lee Flesher
Intimacy and Violence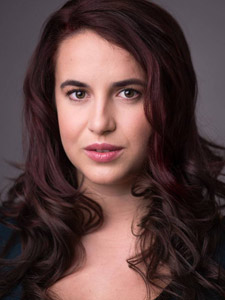 Rachel Lee Flesher (they.she.he) is a fight director, intimacy director, intimacy coordinator, SAG-AFTRA stunt performer, actor, director, gender and sexuality educator, and teacher.
Rachel is passionately engaged in making safer sets and stages around the world by helping to produce best practices and procedures for intimate and hyper-exposed content in multiple areas of film, tv, theatre, and education. Currently Rachel is part of the collaboration team advising SAG-AFTRA on their effort to standardize, codify and implement guidelines for on-set intimacy coordinators. You can see Flesher's Intimacy Coordination on over 30 shows on HULU, FX, CBS, SHOWTIME, NETFLIX, HBO, STARZ, Apple, and more.
Rachel is a Certified Fight Director, Certified Fight Instructor, and Advanced Actor Combatant with the Fight Directors Canada, and an Instructor with Tactics on Set. Rachel began intimacy directing in 2009 after training with Tonia Sina and was a certified intimacy director, intimacy coordinator, lead teacher and apprenticeship liaison with Intimacy Directors International. They are now a certified Intimacy Coordinator, and Intimacy Director, and teacher with Intimacy Directors and Coordinators. Rachel founded the group Intimacy Coordinators Education Collective, an Intimacy Coordination training program geared towards creating individualized learning for participants and accredited by SAG-AFTRA. Rachel's Fight Direction and Intimacy Direction have been featured at Goodman Theatre, Steppenwolf Theatre Company, Woolly Mammoth Theatre Company, Shakespeare Dallas, Steppenwolf for Young Adults, and many more.
With a deep love for teaching and learning Rachel has mentored many fight directors and intimacy directors and coordinators in the industry today and is excited to continue to do so as the industry grows to be more inclusive. Through studying mental health first aid, trauma, abuse, survival, and healing, and collaborating with other directors, psychologists, and mental health experts, Rachel is developing techniques to help actors safely portray trauma and abuse on screen and stage – Traumaturgy. Rachel specializes in consent for youth, working with trans and non-binary actors, queer intimacy, and telling stories of nonconsensual intimacy. Their goal is to help create safer and emboldening spaces for actors to do daring work through consent culture
Contact Us with Any Questions!
6773 Hollywood Blvd., 2nd Fl.
Los Angeles, CA 90028
(323) 465-4446
(323) 469-6049 FAX
adler@stellaadler-la.com