Zev Steinrock
Intimacy and Violence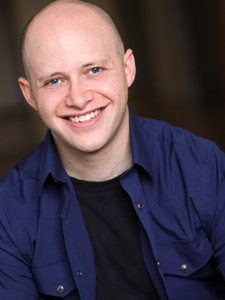 Zev Steinrock (he/him/his) is a professional actor, fight director, and teacher. He most recently served on faculty at the University of Illinois at Urbana-Champaign teaching acting and stage combat. Zev has taught numerous stage combat, improvisation, and acting courses, as well as having developed online courses designed to engage theatrical arts in new and innovative ways.
Zev continues to work as an actor and fight director for a variety of professional theatres including Shattered Globe in Chicago, Arkansas Shakespeare Festival, the Williamston Theatre, and the renowned Paper Mill Playhouse in New Jersey. He is also a founding member of Chicago's rising Brown Paper Box Theatre Co.
Zev is published in Fight Master Magazine, the journal of the Society of American Fight Directors (SAFD), with an article interrogating techniques for "Acting the Fight."
In addition to his ongoing research and teaching in combat, movement, and acting, he has been recognized twelve times for his artistic work in Michigan, in Chicago, and by the SAFD.
Zev is a Certified Teacher with the Society of American Fight Directors and served on the governing body. In 2011, Zev was honored by SAFD with its Paddy Crean Award, which is presented to someone believed to be an emerging leader in fight direction.
Zev is a Certified Intimacy Director and serves on the Board of Directors for Intimacy Directors International (IDI), working professionally as an intimacy director, specializing in bringing consent work to university theatre and film departments.
Zev earned his MFA in Acting at Michigan State University, along with certifications in teaching yoga and for college teaching and holds a BFA in Acting from the University of Illinois at Urbana-Champaign.
Contact Us with Any Questions!
6773 Hollywood Blvd., 2nd Fl.
Los Angeles, CA 90028
(323) 465-4446
(323) 469-6049 FAX
adler@stellaadler-la.com