Stella Adler
Stella Adler dedicated her life to preserving and expanding the highest level of art in the theatre. The youngest daughter of the eminent Yiddish tragedians, Sara and Jacob Adler, Stella began her career on her father's stage at the age of four in a production of Broken Hearts. When she was eighteen, she went to London, where she made her debut at the Pavilion as Naomi in Elisa Ben Avia, a role she performed for a year, before returning to New York. She spent the next ten years performing throughout the United States, Europe, and South America, appearing in more than 100 plays in vaudeville and the Yiddish theatre. She received a great deal of acclaim among Yiddish-speaking audiences as the leading lady of Jacob Ben Ami and Maurice Schwartz, yet she longed for wider recognition and the opportunity to play more varied roles.
Following her Broadway debut in Karel Kapek's The World We Live In, she joined the American Laboratory headed by Richard Boleslavsky and Maria Ouspenskaya, who were former members of the Moscow Art Theatre. In 1924, she met her second husband, Harold Clurman, one of the co-founders of The Group Theatre, and in 1928, she participated in the Actor's Laboratory where she met Lee Strasberg as well.
When, in 1931 Clurman, Strasberg, and Cheryl Crawford created an influential theatre group that championed an imperative for realism and the teachings of Konstantin Stanislavski, they invited Stella Adler to become a founding member of that collective, which they called The Group Theatre.
Although neither the politics nor the cooperative energy of the company appealed to her greatly, Stella nevertheless joined the ensemble, having been promised leading roles and having been enamored of Clurman's vision.
While acting with the Group, she did some of her most celebrated work, including the notable roles of Sarah Glassman in Success Story, Adah Menken in Gold Eagle Guy, Bessie Berger in Awake and Sing, and Clara in Paradise Lost. During her climactic scene in Awake and Sing, actors all over New York City would sneak in to the back of the theatre to witness her power.
Taking a brief leave of absence in 1934 to travel to Russia, she stopped off in Paris, where she met and studied for five weeks with Konstantin Stanislavski. Stella Adler is the only American actor to have studied with him through intense, private training. When she returned to The Group Theatre with the most current understanding of his work, and an inspired idea of what American theatre could be, she began to give acting classes for other members of the Group, including Sanford Meisner, Elia Kazan, and Robert Lewis, all of whom went on to become notable theatrical directors and acting teachers.
Although the Group provided her with some creative support, she never felt comfortable in that environment, and in 1937 she left for Hollywood.
Stella Adler served six years as an associate producer for MGM, and a number of roles — under the anglicized name "Stella Ardler" — in movies such as Love on Toast (1937) and The Shadow of the Thin Man (1941). She returned to Broadway and London to direct and act for the stage including the London premiere of Manhattan Nocturne, the Off-Broadway revival of the Paul Green-Kurt Weil anti-war play, Johnny Johnson, as well as Sons and Soldiers, Pretty Little Parlor, and He Who Gets Slapped. Her last stage appearance was in the critically controversial production of Arthur Kopit's Oh Dad, Poor Dad, Mama's Hung You in the Closet, and I'm Feeling So Sad (1959).
Concurrent with her work as an actor and director, Stella Adler resumed the teaching she started for Group Theatre actors. Her first classes were held in the early 1940's at the Erwin Piscator Workshop at the New School for Social Research. She left the faculty in 1949 to establish her own conservatory for young actors to work, study, and perform, which would last five decades and enrich every part of the American theatre and motion picture arts.
Stella's ultimate calling synthesized what she had learned from the Yiddish theatre, The Group Theatre, Broadway, Hollywood, and Stanislavski. The Stella Adler Theatre Studio (later renamed the Stella Adler Conservatory of Acting, and today the Stella Adler Academy of Acting & Theatre-Los Angeles) offered courses in principles of acting, speech, voice, Shakespeare, movement, and makeup, complemented by workshops in play analysis, character development, scene preparation, and period/playwright acting styles. Her students gained onstage experience performing scenes and plays before invited audiences.
Among her students were Marlon Brando, Robert De Niro, Warren Beatty, Elaine Stritch, Mark Ruffalo, John Ritter, Harvey Keitel and Candice Bergen. Her belief in the supreme seriousness of her art inspired established professionals to continually return to her circle for her brilliant insights and passionate counsel.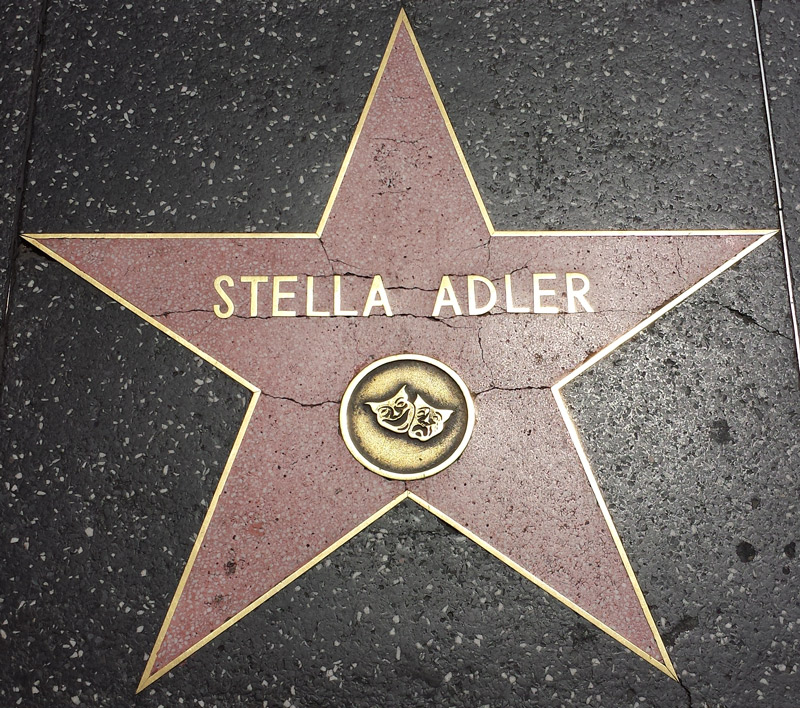 Contact Us with Any Questions!
6773 Hollywood Blvd., 2nd Fl.
Los Angeles, CA 90028
(323) 465-4446
(323) 469-6049 FAX
adler@stellaadler-la.com