Chels Morgan
Intimacy and Violence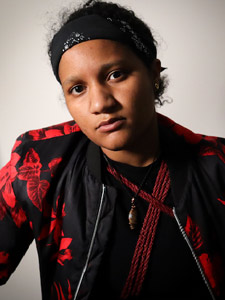 Mx. Chels Morgan, CSE (pronouns: they / xe) – is an Afro-Latinx, Neuroexpansive, and Queer filmmaker, sexuality and social justice educator, cultural competency specialist, and intimacy director & coordinator. Chels has an extensive background in film, television, theater, dance, and circus and is currently pursuing an MFA in Film and Television Production from Loyola Marymount University with a specialization in Directing Fiction (as of 2023). Their intimacy and cultural competency work has been featured on many platforms, including at the New York Theatre Workshop (Off-Broadway), the Hudson Theatres Mainstage (LA-local), on the AllBlk Streaming Platform. They have also worked with a number of top-performing arts universities including the University of Michigan, The New York Film Academy, The Claremont Colleges, Loyola Marymount University, The University of Southern California, and Columbia University.
Chels is an AASECT Certified Sexuality Educator (CSE) as well as a Certified Holistic Sexuality Educator (CHSE) via the Institute for Sexuality Education and Enlightenment (ISEE) and has additional training by the ANTE UP! Virtual Freedom Professional Development School for Justice Workers in the history, implementation, and troubleshooting of various justice frameworks related to the sexuality field. They use this knowledge and training to consult on productions at all levels in their various mediums on topics of dis(ability), race / cultural competency, the queer and trans community, BDSM / Kink, trauma, and non-monogamy.
Contact Us with Any Questions!
6773 Hollywood Blvd., 2nd Fl.
Los Angeles, CA 90028
(323) 465-4446
(323) 469-6049 FAX
adler@stellaadler-la.com
We Appreciate Your Support!