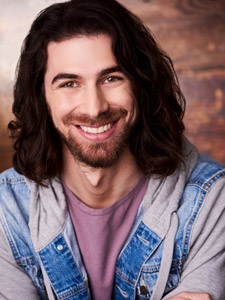 Elias Wygodny is an actor, artist, musician from Chicago-land, IL and received a Bachelor in Fine Arts degree from the University of Michigan. After graduation Elias moved to New York City where he studied acting at the Michael Chekhov Acting Studio in NYC, clowning at the Funny School of Good Acting, voice and breathing with Andrew Byrne founder of The Singing Athlete, Releasing the Character with Katherine K. Willis, and the Lucid Body at the Lucid Body House. In 2015 he began his study of the Lucid Body with Fay Simpson and extensively alongside the larger international teaching community to receive his Lucid Body Teaching Certification. He has since taught Lucid Body with the Lucid Body House in NYC, Skuespiller Akademiet in Copenhagen, Denmark, and at Symetria Recovery in Chicagoland as a drama therapy technique for people on the road of recovery from substance addiction.
Elias is fascinated with unlocking human potential through movement, play, compassion, and neuroscience. He is currently attending Johns Hopkins School of Education (online) with a focus in Mind, Brain, and Teaching. Through expanding his teaching beyond the theatre and into other spheres of society, his understanding and love of the theatre has grown immensely. He is honored to bring these teachings of the actor to actors and non-actors alike, for he believes that through creative expression and compassionate community the world can heal its wounds and transform them into triumphs, and the theatre provides the space for just that.
Contact Us with Any Questions!
6773 Hollywood Blvd., 2nd Fl.
Los Angeles, CA 90028
(323) 465-4446
(323) 469-6049 FAX
adler@stellaadler-la.com
We Appreciate Your Support!