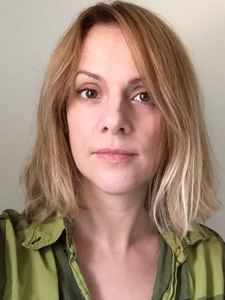 LA based artist and theater practitioner Jade Gordon is a founding member of the art collective My Barbarian. Her collaborative work uses performance to theatricalize social problems and imagine ways of being together. Exploring the legacies of performance art history, political theater, feminist theory, and social movements, Gordon makes plays, costumes, masks, puppets, and videos. Gordon holds an M.A. in Applied Theater Arts from USC and is a practitioner of Theater of the Oppressed techniques. She has presented work with My Barbarian in many museums including MoMA, New York, NY; MoCA, Los Angeles, CA; LACMA, Los Angeles, CA; and SFMoMA, San Francisco, CA; and in festivals, galleries, and public spaces, along with projects at the New Museum, New York, NY; and Studio Museum in Harlem, NY. My Barbarian was included in two Performa Biennials, two California Biennials, the Biennale de Montréal, and the Whitney Biennial. In the fall of 2021, they presented a 20 year retrospective exhibition of their work together at the Whitney Museum of American Art. Outside of the group, Gordon was included in the 2018 Hammer Museum Made in LA Biennial. Gordon has received awards from the Foundation for Contemporary Art, Creative Capital, Art Matters, and the City of LA, and was a recipient of the 2018 United States Artists Fellowship.
Contact Us with Any Questions!
6773 Hollywood Blvd., 2nd Fl.
Los Angeles, CA 90028
(323) 465-4446
(323) 469-6049 FAX
adler@stellaadler-la.com
We Appreciate Your Support!